BALNEO SPA OUTDOOR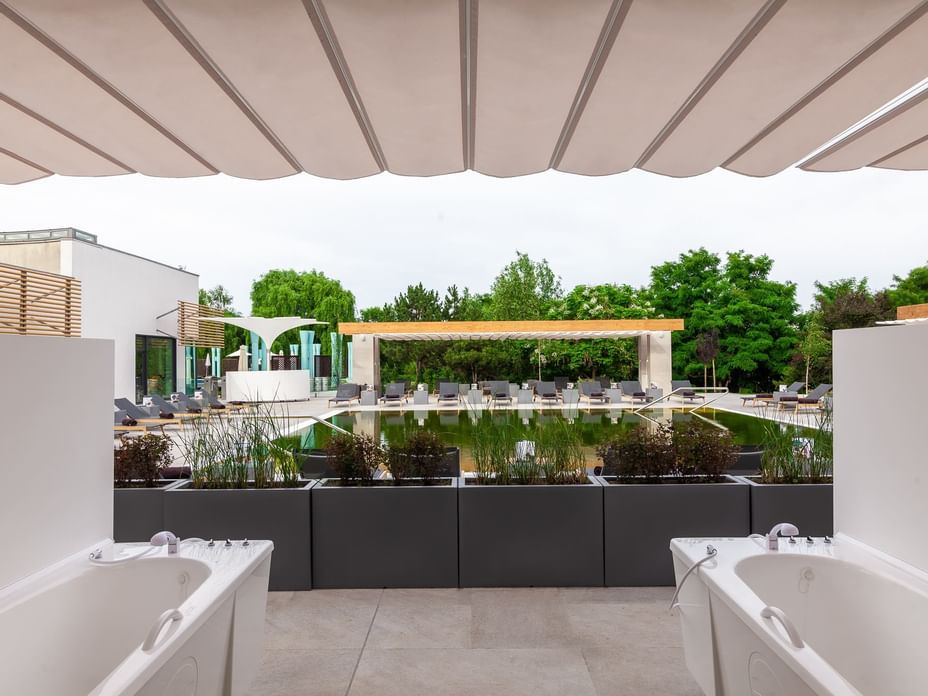 Relax your body and enjoy the sea breeze! Let it calm down, balance, purify and revitalize with the Balneo Spa Outdoor package.
The package is recommended for: degenerative rheumatic diseases and inflammatory, chronic lumbago, herniated disc, peripheral and central neurological disorders, post traumatic and surgeon recovery , osteoporosis, hypertension moderated, peripheral circulatory disorders, arterial and venolimphatic conditions, chronic inflammatory gynecological disorders, secondary sterility, dermatological disorders (psoriasis, neurodermatitis, acne), ORL diseases, respiratory diseases.
The package includes:
7 nights accommodation with breakfast included
Medical examination,
4 therapies/ day, customized program based on medical diagnosis, from:

2 indoor therapies (baths 20', massages 20', therapeutic massages with essential oils 20', herbal baths with salt water 20', paraffin wraps 20', hydrokinetotheraphy in the inside salt water pool, electrotherapy, laser, Bioptron)
2 outdoor therapies at the salty water pool ( mud application 120' and hydrokinetotheraphy 25');

Recommendations and medical report.
Prices from 677 euro / person / 7 nights with breakfast included ( discover here our treatment packages)
BONUS: A THERAPY / PERSON / STAY 7 NIGHTS OF YOUR CHOICE FROM:
FOR HER – DETOX & RELAX FACIAL RITUAL OR NATURAL BODY RELAX
FOR HIM - MAN KLAPP POWER OR THALGOMEN
The offer depends on availability. For reservations you can contact us at 0241/702 809 and 0241/702.818 or e-mail: reservation-hoteleuropa@anahotels.ro.