AQUA & HEAT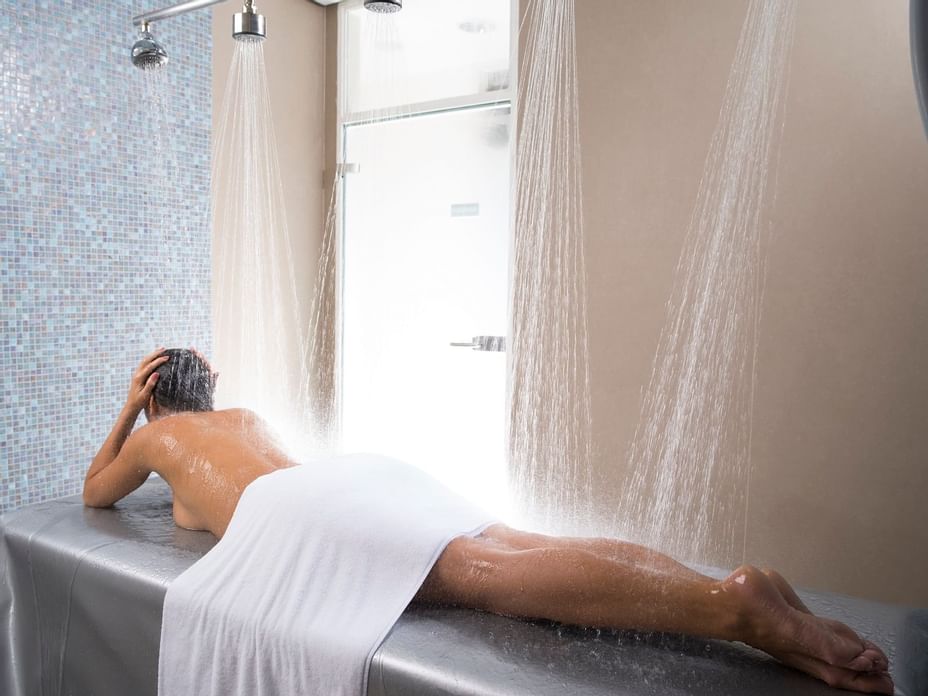 Enjoy relaxation, pampering and full-body rejuvenation through the healing powers of water, plants and silt.
Hydrotherapies – relaxation, detoxification, hydration and body toning through a combination of the benefits of water and the healing power of seaweed and organic mud.
HYDRO MASSAGE
Energizes and revitalizes the body while relaxing muscles and stimulating blood circulation through the water jets. The healing power of water strengthens the immune system of the body, enabling it to regain its strength and vitality.
Hydro massage
20 minutes
VICHY SHOWER MASSAGE
Ultimate muscle relaxation, blood circulation activation and skin beauty are just some of the benefits that the Vichy shower has to offer. The shower caresses the body with a refreshing waterfall combining strong water jets and a massage by hand.
Hydro-massage
20 minutes
UNDERWATER SHOWER MASSAGE
With its toning and relaxing effects, the secret of this type of hydro-massage is the use of a strong water jet, complemented by the therapists' expertise. The deep action of water reduces pain, detoxifies the body and stimulates blood circulation, enabling the body to regain its vitality and energy.
Body Hydro-massage
20 minutes
HERBAL BATH WITH SALTY WATER
A relaxing bath with salt water from the Techirghiol Lake and infusions with plants, picked from unpolluted mountain areas and packed in individual bags. In addition to the calming and resting effect, the active principles of the herbs act directly on the skin with antiseptic, healing and anti-inflammatory results. Vegetable flavors will let your mind stroll to the breathtakingly beautiful nature.

Hydrotherapy
20 minutes
ALGAE BATH
Relaxation and stimulation of fat burn through the anti-cellulite power of the seaweed that, combined with the salty water from the Techirghiol Lake, deeply hydrates the skin, helping it to regain its firmness and natural beauty.

Hydrotherapy
20 minutes
PARAFFIN WRAPS
Partial wrapping of regions or body segments in paraffin melted at 40°-45°C. An extremely efficient, all-body thermo therapy procedure that relaxes muscles, improves the elasticity of structures, stimulates blood and lymph in depth circulation, relieves joint and muscle pain.

Paraffin therapy
20 minutes