MASSAGES AND THERAPIES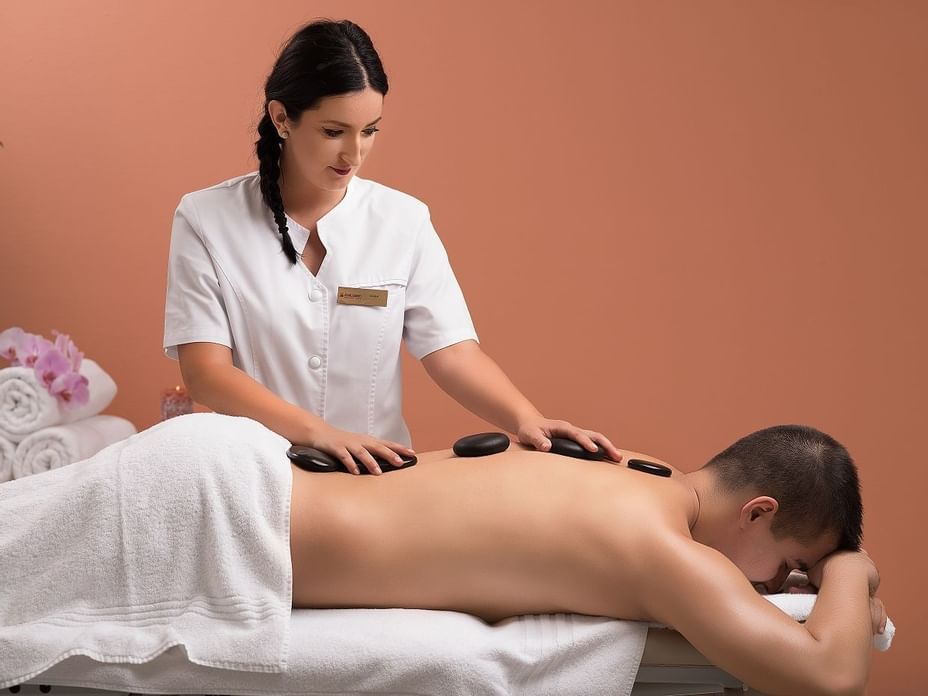 Restore the wellbeing and natural balance of your body using our relaxing rituals.
Massages and therapies – Enjoy relaxation massages using essential oils, mud, or hot stones that melt away the stress and tension with skilled arms. These ancient therapies help the body to regain its natural balance.
STRESS RELIEF MASSAGE
Forget the daily stress by choosing a Swedish, full-body, or back side of the body massage, with mild to moderate pressure, with warm essential oils. Sink into the natural flavors, let yourself caressed by expert therapists touch and you will experience pure relaxation and tranquility by the touch of our expert therapists.
Body Massage
25 minutes
SERENITY MASSAGE
Deep relaxation massage designed to eliminate stress and tension in the scalp and cervical region by stimulating peripheral blood circulation and nerve endings. It restores the emotional and mental balance of the body, minimizes depression and anxiety generating an infusion of good mood and inner peace.
Head Massage
25 minutes
INVIGORATING MASSAGE
Whole body massage with medium to high pressure, stimulates blood circulation and elimination of toxins accumulated in the muscles, while rebalancing and stimulating the positive energy flow. Strong friction, chucking and rolling techniques combined with short percussion and rushing techniques make up for an energizing and relaxing massage.
Body Massage
50 minutes
MANUAL LYMPH DRAINAGE
Effective natural method in stimulating lymphatic circulation that targets the whole body. Gentle and rhythmic massage with the palms, stimulates the muscles of the lymphatic vessels. Effects: eliminates lymphatic edema, significantly relieves cellulite, circulatory disorders, constipation and acute or chronic pain, stimulates the immune system.
Body massage
50 minutes
AYURVEDA MASSAGE
Indian natural massage with peppermint, lavender, almond oil, which integrates body and spirit at the same time. The "marma" ayurvedic massage and pressure maneuvers harmonize the three elements of every human being: Vata, Pitta and Kapha, while improving circulation, purifying the body, eliminating tension, fatigue, insomnia and depression.
Body Massage
75 minutes
SHIRODHARA MASSAGE
A sublime, extremely pleasant oil treatment, inspired by Ayurvedic tradition, with a tradition of over 6,000 years. A continuous warm oil stream drips onto your forehead in alignment with the third-eye or Anja chakra. The process is gentle, its application mindful. You will feel how your worries gradually disappear while a subtle state of inner peace and happiness will fill your soul.
Ayurvedic Massage
25 minutes
VOLCANIC HOT STONE MASSAGE
Feel the magic of the hot stones, harmoniously combining the Ayurvedic massage with essential oils and the magical sounds of the Tibetan singing bowl. It is one of the oldest therapeutic techniques used for relaxation, energy balancing of the 7 main chakras located along the spine. A unique experience for body and soul.
Ayurvedic massage
50 minutes
LOMI-LOMI MASSAGE
Classic Hawaiian massage of "loving hands" is a holistic healing tradition, an exotic and intensely relaxing treatment and a continuous balance of the whole body. The movements are deep and rhythmic, the forearms are used as well as the hands, the different regions will be massaged together, creating a slight sea wave feeling on your body.
Body Massage
50 minutes
CANDLE MASSAGE
This unforgettable therapy will make you will feel a deep relaxation and a unique delight for body and soul. A body peeling followed by the Lomi - Lomi Hawaiian Massage with 100% natural hot drops of special candles will lighten your senses and will make you forget the everyday stress. The skin becomes velvety, moisturized and you will smell the precious perfume on your body.
Body Massage
50 minutes
REFLEXOLOGY
Holistic therapy that treats the body as a whole. The specific pressure and massage of the reflex points corresponding to vital segments and organs reduces stress and stimulates blood circulation both locally and in the affected organ. The elimination of harmful residues and the supply of energy and regenerating substances are achieved.
Body massage
25 minutes
BAMBOO MASSAGE
Vigorous Asian massage with powerful bio-stimulation and reactivation effects, especially designed for body and face. Softens your skin and awakes your senses by firm and full action of bamboo sticks. The body regains its strength and vigor, the unpleasant "orange peel" appearance of skin simply vanishes, the skin becomes again smooth and supple.
Body massage
50 minutes