FACIAL RITUALS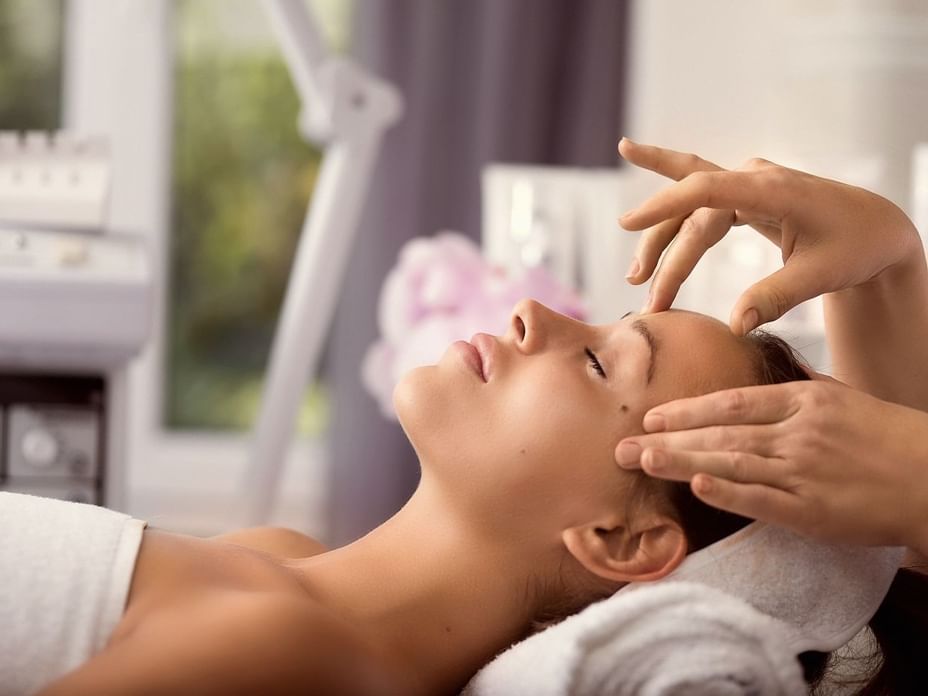 These treatments offer intensive care and revitalization of the skin, resulting in extra brightness and elasticity.
Facials – cleanse, hydrate and look after the skin using organic products that regenerate the tissue, enabling the skin to regain its firmness and beauty.
AYURVEDA FACE LIFT
Deeply relaxing and tenaciously toning, this bio-energetic facial massage fades away the visible marks of tension. Through microcirculation stimulation, the skin regains its healthy bright glow, while breathing is disciplined by corrected shoulder and neck positions.
Facial Treatment
25 minutes
THALGO SOURCE
Hydrating-remineralizing complex treatment with Spring Sea water rich in oligo-elements and seaweed extract with an intense moisturizing effect. Dedicated for the tired skin, assaulted by daily pollution, wind, radiation and also for the mature skin.
Facial Treatment
50 minutes
FACIAL ALCHEMY WITH GEROVITAL / ASLAVITAL
Complex treatment with the famous Gerovital / Aslavital cosmetics rich in a multitude of active natural principles that prevent the destruction of the cell wall, regenerates and protects the skin, turning it bright and youthful.

Facial Treatment
50 minutes
X-TREME HYALURON INFUSION
This complex and intense treatment redefines the hydration process by stimulating the collagen synthesis, redefining the skin volume and density through a lifting effect. Innovative treatment dedicated for face, skin and hands.

Antiaging Treatment
50 minutes
KLAPP GOLD
Luxury anti-aging treatment with antioxidant and regenerating effect by applying 24-karat gold foil together with a cocktail of minerals, vitamins and amino acids. Provides long-term care and protection for mature skin.
Facial Treatment
50 minutes
OXYGENERA PRO
A beauty ritual that replaces invasive treatments with Botox and Hyaluronic Acid, the favorite of Hollywood stars. It combines 5 revolutionary therapies: Microdermabrasion with diamond particles, Hyperbaric Oxygen with 98% purity, Multipolar Radiofrequency, Virtual Mesotherapy and Phooton Oxygen Mask + Infrared Soft Laser. The active ingredients infuse up to the dermis, the skin will be intensely hydrated, more elastic and brighter with up to 70% cleaner, acne spots and lesions become a memory, wrinkles are attenuated.
80 minutes