MASSAGES & THERAPIES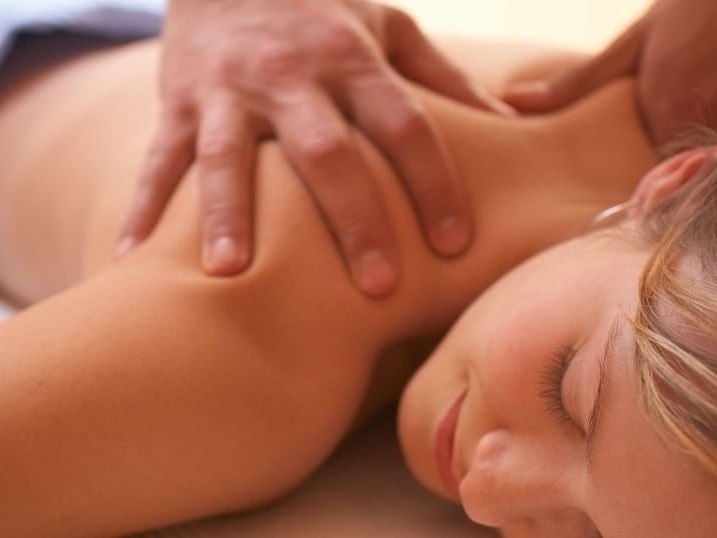 Experience our relaxing rituals, created to restore the wellbeing and natural balance of your body.
The relaxation massages using essential oils or hot stones melt away the stress and tension through expert hands, while the therapies of ancient medicine restore the natural balance of the body.
STRESS RELIEF MASSAGE
Relaxation massage that restores the natural balance of the body and improves blood circulation. The 25' massage is aimed at the back and lower limbs, while the 50' and 75' options provide full relaxation of the entire body, resulting in a pleasant state of wellbeing.
Relaxation Massage
25 / 50 / 75 minutes
INTUITIVE MASSAGE
Freestyle treatment mixing different massage techniques for a tailor-made therapy with healing properties.
Body massage
25 / 50 / 75 minutes
HOT STONE MASSAGE
Using traditional ayurvedic medicine techniques, the hot volcanic rock massage offers spectacular results through the relaxation, balance and revitalization of the body. The soft stones of various sizes are applied on the body starting from the extremities through to the trunk following the main centres of energy. Hands on massage that harnesses the properties of the hot stones to relax the muscles and free the mind.
Body massage
25 / 50 / 75 minutes
THALI STONES
Offering a deep relaxation and energy reinstating effect, this therapy starts with a body peeling session using Thalion products. The next step consists of a back massage and the application of a set of volcanic rocks along the spine, followed by an overall relaxation massage.
Body massage
75 minutes
BACK PAIN THERAPY
The massage techniques employed eliminate joint tension and back pain caused by the lack of physical exercise or by certain spine issues. A set of physical exercises in the massage room is followed by a massage of the back.
Body massage
25 minutes
TIRED LEGS RITUAL
Especially recommended after intense physical activities (skiing, hiking, sports) or for tired, heavy legs, the ritual begins with a peeling with Thalion seaweed scrub, followed by a heated oil massage and a massage with Thalion cooling gel. Moisturizing, soothing and relaxing effect for the feet and calves.
Feet and calves massage
25 minutes