BODY TREATMENTS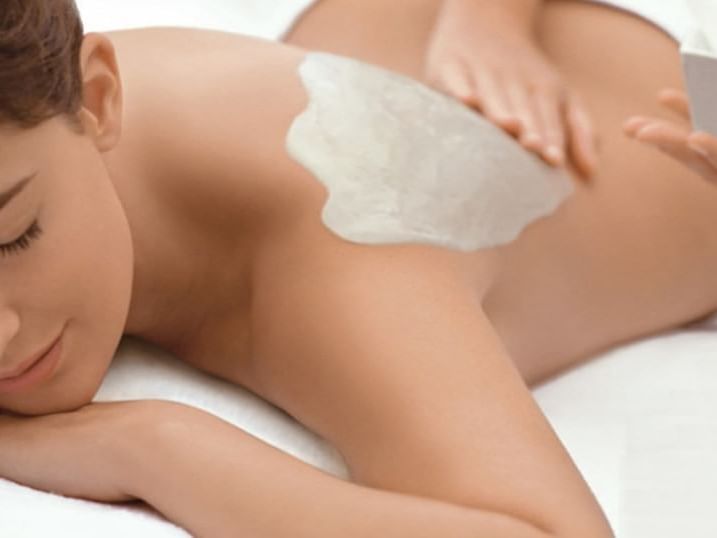 Firm and brighten your skin with these body remodeling and skin rejuvenation techniques.
Beauty, sensuality, and young-looking skin are the effects of the active ingredients in the seaweeds, chocolate or luxury products such as gold, ruby or sapphire.
THALI' SVELT SILHOUETTE WRAP
The treatment with Thalion products based on seaweed stimulates the burning of fat and the elimination of toxins, giving a new contour to the figure by losing extra centimeters.
Body treatment
75 minutes
THALISENS OCEANIC BLISS
A unique multi-sensory experience designed to induce both body and mind in a state of deep relaxation, through an exclusively manual treatment associated to 100% natural marine textures. The body is slowly immersed in a cocoon of wellbeing, thanks to the Oceanic Bliss massage. Marine and solar choreographies offer exquisite sensation of relaxation. The ritual ends with a melting balm.
Body treatment
60 minutes
SAPHIR CEREMONY
Sapphire is associated with simplicity, being a symbol of leaders over time. Detoxifying and toning, the treatment with micro-capsules with sapphire powder and Lotus Blue extract helps to maintain hydration in the skin, having an antioxidant, revitalizing and strong toning effect. ft increases celular metabolism, improves peripheral blood circulation and provides an anti-cellulite action.
Body treatment
75 minutes
RUBY CEREMONY
Ideal for dehydrated and mature skin, this treatment uses ruby powder and coenzyme Q10 in a miraculous mix with red orchid which gives the skin a deep hydration, skin rejuvenation and renewal.
Body treatment
75 minutes
GOLD CEREMONY
This revitalizing and purifying body treatment entails a body peeling using precious metals, a cellularome and lipoliarome anti-cellulite massage, a gold and Ylang-Ylang body mask, and a finishing touch of a special blend of essential oils and hydrating moisturisers.
Body treatment
75 minutes
CHOCOLATE DELIGHT
The fat burning effect through the elimination of excess of water and fat is complemented by overall hydration of the body and the light euphoria given by chocolate.
Body treatment
75 minutes