FACIAL TREATMENTS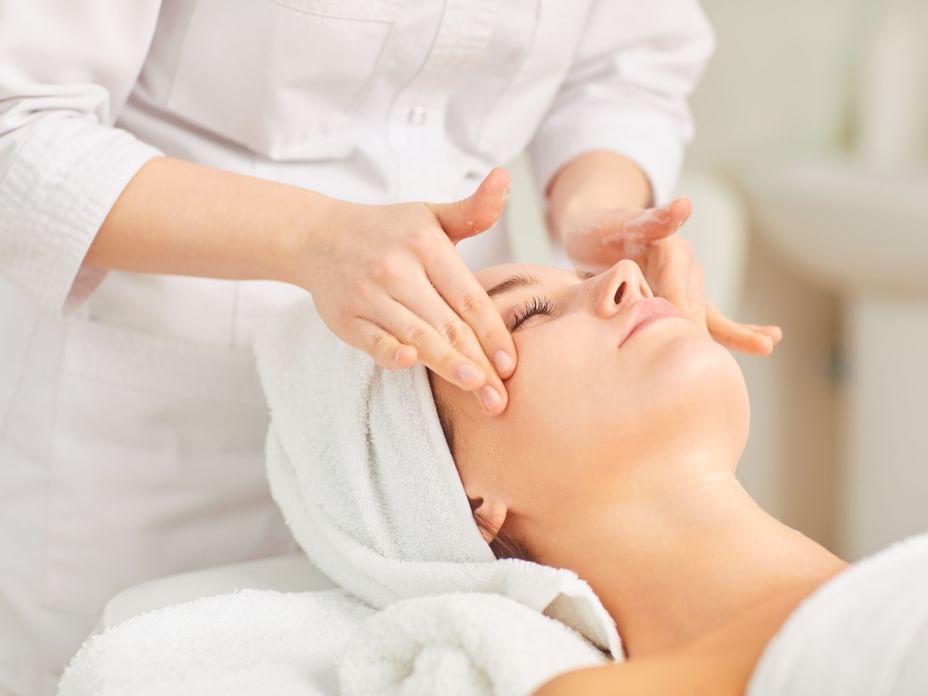 Intense hydration, lifting, antioxidant protection or anti-aging effects to restore the vitality of your skin and for an extra pampering.
COOLIFTING
CooLifting is a revolutionary facial treatment that generates an immediate lifting effect, smoothing the skin, eliminating the appearance of fine lines and reducing deep wrinkles. This state-of-the-art treatment leaves the skin rejuvenated, being the most spectacular and fast face lifting treatment to defy the passing of time.
Facial massage
30 minutes
OXYGENERA PRO
A unique beauty ritual that replaces invasive treatments with Botox and Hyaluronic Acid, the Hollywood star's favorite. The active ingredients infuse to the dermis, the skin will be intensely hydrated, more elastic and luminous with up to 70%, clean, skin spots and acne lesions will become a memory, the wrinkles are attenuated.
Facial massage
80 minutes
FACIAL EQUILIBRIUM
From preventing the destruction of the cell wall to the regeneration of the skin, the Gerovital H3 Equilibrium treatment, customized for each skin type, restores the brightness and youth of the skin through a complex procedure of cleaning, peeling, followed by the application of a moisturizing and detoxifying mask, ending with a final massage with a lifting effect.
Facial massage
60 minutes
ALGO LIFT
Prevents the appearance of the first signs of wrinkles, slows down the process of skin aging and helps skin regain its original radiance.
Facial massage
60 minutes
THALI' SOURCE
Dry skin goes through a hidrating and nourishing process with visible effects. This treatment restores vitality and stamina to dry and weathered skin.
Facial massage
60 minutes
ALGO PUR
A special treatment designed for oily skin with enlarged pores. It helps eliminate impurities and control sebum, giving back the skin its original balance.
Facial massage
60 minutes