CONSTANȚA OLD CITY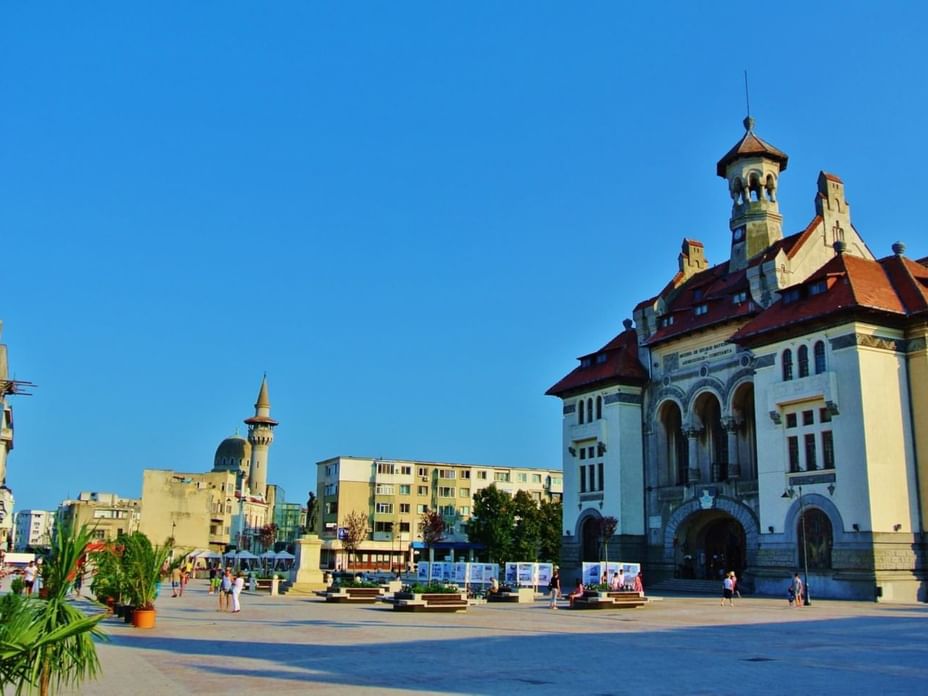 Located on the Black Sea coast, the city of Constanța is a popular tourist destination during the summer. But, besides its beautiful beaches and the iconic Casino, there are many other tourist attractions worth visiting, especially in the Old Town.
The city has a long history dating back to Antiquity. The archaeological remains of the old Tomis fortress, the National Museum of History and Archeology, its historical buildings and diverse culture stand as testimony. If until now you haven't had time to leisurely explore this city, we invite you to discover:
Piața Ovidiu is one of the most popular places to visit in Constanta. It is a pedestrian zone, located in the old city center, close to Tomis Tourist Port.
The National Museum of History and Archeology holds a valuable collection of ancient exhibits such as coins, jewelry, vessels, documents, sculptures and archaeological remains. The most impressive is the Glykon Snake statue, unique in the world.
The Great Mosque is one of the most impressive tourist attractions in Constanța. It was founded by King Charles I at the beginning of the 20th century for the city's Muslim community. Also known as the Carol I Mosque, this edifice is a historical monument, impressing with its grandeur and Byzantine architecture with Romanian elements. If you want, you can climb its 47-meter high minaret. After climbing an internal staircase with 140 steps, you will be rewarded at the top with a superb view of the city, the harbor and the Black Sea.
The Casino in Constanța is a pearl of Art Nouveau architecture. It dates back to 1910, during the reign of King Charles I. Once upon a time, in its heyday, tourists from all over Europe used to stay here.
The Genovese lighthouse is located just 150 meters away from the Casino, on the cliff. It is a historical landmark that dates back to the medieval period and is one of the main tourist attractions in Constanța. The current lighthouse was built in the second half of the 19th century, on the foundation of an old Genoese lighthouse from the 14th century. It served as a guide for ships sailing the sea until the early 20th century.
Casa cu Lei, next to the Casino, is a symbol of the city of Constanța. It was made in the Italian Neo-Renaissance style with neoclassical elements, by the Armenian Dicran Emirzian for his family. The building by the sea was built according to the plans of the Romanian architect, Ion Berindei, between 1895 and 1898, evidenced by the unifying element: the constant presence of lions. The name of the building comes from the existence of the four lions carved on the supporting columns of the building.
Strada Vântului, in the past, was seen as a symbolic border between the houses of two ethnic groups: Greek and Armenian. It is only two meters wide and stretches for only 100 meters.