PLAN AN EVENT
Event Venues in Romania
The Ana Hotels collection is ready to make your next business meeting in Romania truly remarkable. Whether you're organizing a large-scale convention in the city or a relaxed corporate retreat in the mountains, you'll be delighted with our well-appointed event venues, modern facilities and first-rate service. From start to finish, our experienced event planners will be at your side, assisting you with every aspect of your event – including venue set-up, audiovisual support and full-service catering. And during their downtime, your colleagues will enjoy taking advantage of a range of relaxing and invigorating activities – from seaside spa treatments at Ana Aslan Health Spa in Eforie Nord to captivating tours of some of Bucharest's most iconic landmarks.
In addition to meetings and MICE events, our venues offer a magnificent setting for weddings and social gatherings. Celebrate with us!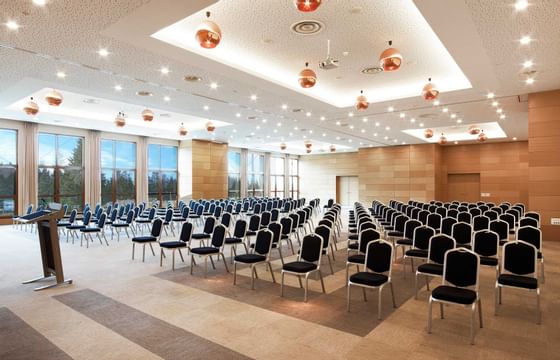 Ana Hotels Sport Poiana Brașov
The Conference Center at Ana Hotels Poiana Brașov includes 11 flexible venue spaces, fully equipped for conferences, seminars, training sessions and special events of up to 500 people. Naturally lit and offering access to the terrace, each meeting rooms provides a full range of amenities – from projection screens, projectors, WiFiaccess, flipcharts and sound systems to podiums, dance floors, karaoke and DJ equipment.
CONFERENCE ROOMS FACTSHEET

opens in a new tab
Ana Hotels Bradul Poiana Brasov
The considerable dimensions of the meeting room allow for the organization of large events: ranging from conferences, product launches, training and team-building sessions, to various types of parties of up to 180 guests. The room, located in Ana Hotels Bradul, can also be accessed through Ana Hotels Sport. Guests have access to wireless broadband and all the technical equipment, as well as to a terrace offering spectacular views across Poiana Brașov.
CONFERENCE ROOMS FACTSHEET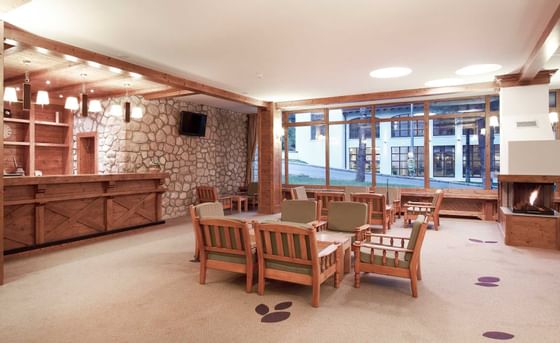 Ana Hotels Poiana Poiana Brasov
Boasting a generous space and beautiful views across the forest, Ana Hotels Poiana's events room offers a warm ambiance, ideal for parties and other informal gatherings. This is also the place where you can organize a hearty breakfast, a delicious lunch or a dinner surrounded by friends after a fun day on the slopes.
CONFERENCE ROOMS FACTSHEET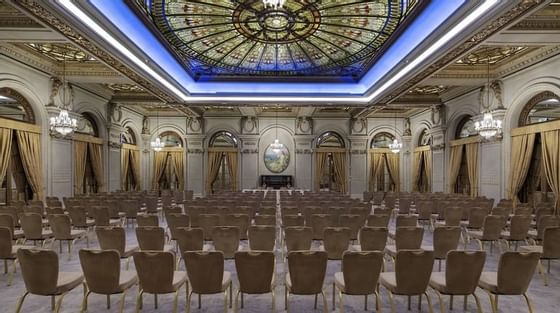 Athénée Palace Hilton Bucharest
Impeccably located in the heart of the vibrant city center, Athénée Palace Hilton Bucharest features 13 versatile meeting rooms – ideal for everything from small conferences to grand galas and general assemblies. Host an impressive corporate banquet in the historic Le Diplomate Ballroom, or a more intimate gathering in the "George Enescu" room, which boasts ample natural light and access to the hotel terrace.
MEETING & CONFERENCE FACTSHEET

opens in a new tab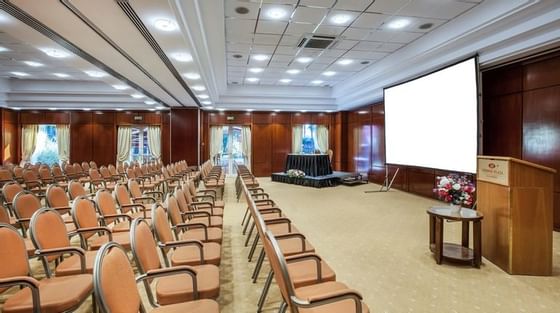 CROWNE PLAZA HOTEL BUCHAREST
The 14 soundproof conference rooms here at the Crowne Plaza Hotel Bucharest offer cutting-edge technology and climate control, and can accommodate groups of up to 550 guests. Many venues are awash in natural light as well. Plan seminars, conventions, training sessions, press conferences, banquets and video presentations with ease here in the north of the city.
CONFERENCE ROOMS FACTSHEET

opens in a new tab
ANA HOTELS EUROPA EFORIE NORD
The state-of-the-art conference center at Ana Hotels Europa Eforie Nord is an outstanding venue for meetings, conferences and events of up to 500 guests. The Grand Europa Ballroom features natural light, inside and outside access and modular, easily configurable space, as well as access to a large foyer for coffee breaks or cocktail receptions.
CONFERENCE ROOMS FACTSHEET

opens in a new tab