TERRACES AND GARDENS
ANA HOTELS, THE PERFECT HOST FOR OUTDOOR EVENTS
ANA Hotels is a prestigious Romanian hotel chain, with over 20 years of experience in the hospitality industry and thousands of events hosted and organized. Each ANA Hotels location stands out for the specifics of its surroundings. Whether you choose the fresh mountain air at Ana Hotels Poiana Brasov, the sea breeze at Ana Hotels Europa or the green oasis in the middle of the capital at Crowne Plaza Bucharest, we are sure that your event guests would appreciate the extra benefits brought by the strategic positioning of the locations: relaxation at the Spas and swimming pools, hiking on mountain paths, walks on the seashore.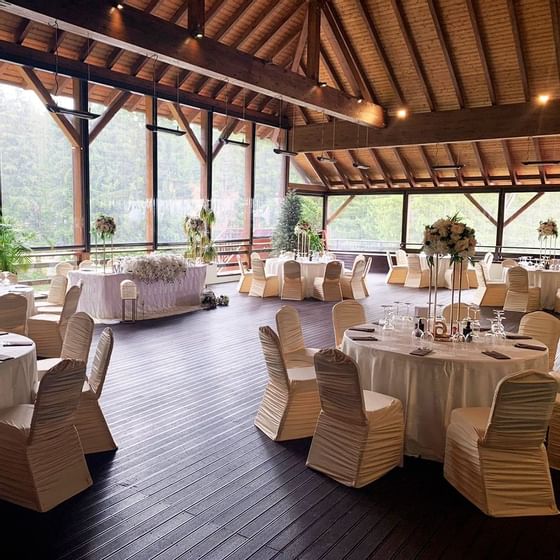 Ana Hotels Sport
With a capacity of 50 people in cocktail format, Tisa terrace, due to its location on the ground floor, is suitable for various events such as team building sessions, barbecue dinners or even bonfires. Ana Ballroom terrace, located on the first floor and surrounded by the fir forest is adaptable to the diversity of business or lifestyle events, having a capacity of 80 people in banquet format or 100 in cocktail format.
Phone: 0268 407 330
Email: reservation-hotelsport@anahotels.ro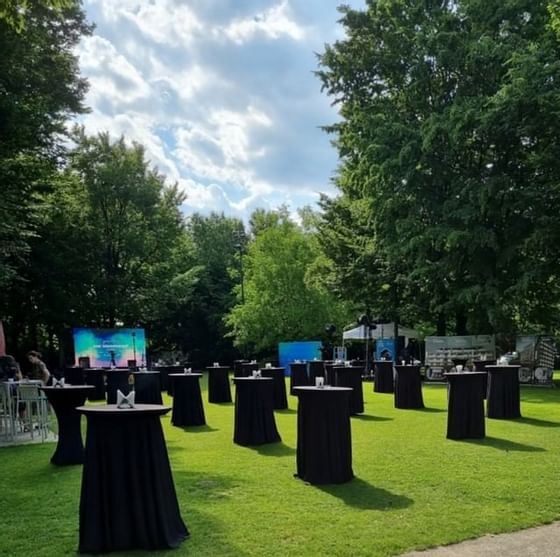 Crowne Plaza Bucharest
The Pine Garden at Crowne Plaza Bucharest may be arranged for various events, from gala dinners, cocktail parties, outdoor concerts, to team buildings, conferences and business meetings for up to 1500 people. It can be the perfect place for organizing private outdoor events, weddings, baptisms, anniversaries. The garden can be divided into 5 distinct areas, which can simultaneously host smaller events: Magnolia Garden, Cherry Garden, Pine Garden, Chestnut Garden and Fir Garden.
Phone: 0212 240 034
Email: sales@crowneplaza.ro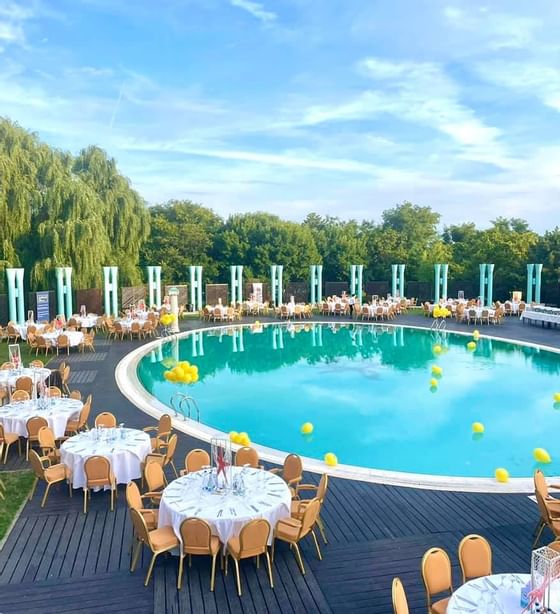 Ana Hotels Europa
The garden and the pool area have a capacity of up to 1000 people, depending on the set-up chosen. They are the ideal places for organizing private and corporate parties, team buildings, product launches and congresses. The Mercur terrace offers a spectacular view over the sea and direct access to the garden. With a capacity of up to 100 people, it is ideal for workshops, small conferences, business meetings or product presentations.
Phone: 0241 702 810
Email: sales-hoteleuropa@anahotels.ro