ENJOY LUXURY ROOMS & SUITES AT ANA HOTELS SPORT
Poiana Braşov accommodation
Spoil your family with an unforgettable visit in Brașov! The gorgeously appointed rooms and suites here at Ana Hotels Sport combine an attractive Bavarian style with sleek, contemporary comfort. All of our accommodation offers beautiful views of the stunning surroundings; beds are topped with ergonomic mattresses, plump pillows and luxury sheets.
Each of our rooms also includes a pullout sofa bed, adding flexibility to your stay here in Transylvania, Romania. Additional perks include heated floors in the bathroom, robes, complimentary high-speed Wi-Fi, a flat-screen TV, safe and room service.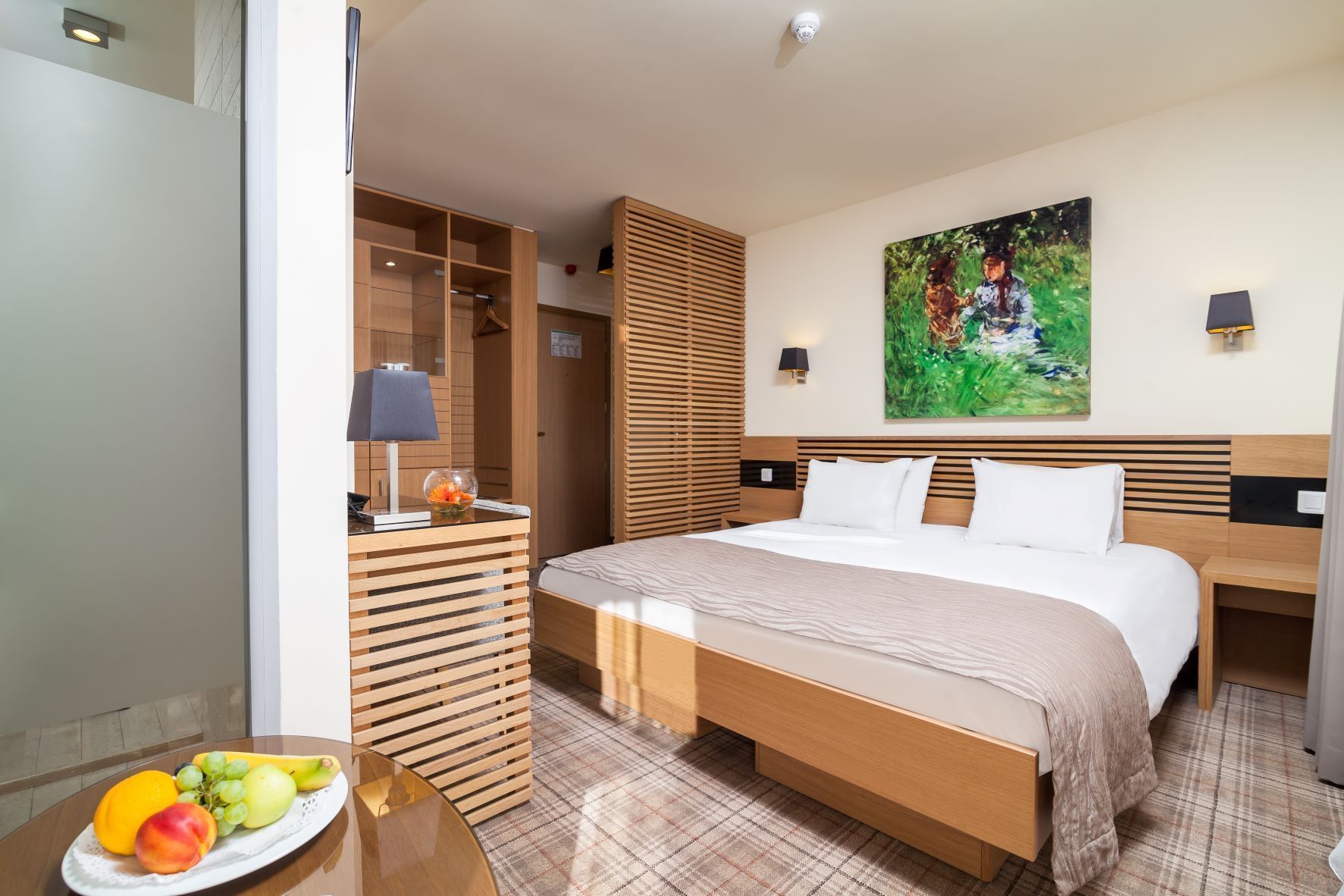 HOTEL POLICIES
Check In: 16:00 - 18:00
Check Out: 12:00
No pets allowed in the hotel.
SERVICES AND ROOM AMENITIES
Bed & Bathroom
Pillowtop bed
Hairdryer
Magnifying mirror
Bathrobe
Slippers
Name-brand bath amenities
Internet Access
Complimentary Wi-Fi access
Wireless internet access in public spaces
Other Amenities
Safe
Separate study with sofa bed
Work desk and chair
Minibar
Balcony
Blackout blinds
Coffee and tea facilities in deluxe rooms and suites
Other Services
Room service
Environmental program
Outdoor parking free of charge for guests (based on availability)
Electric cars charging station in the parking of Ana Hotels Sport
ROOMS FOR FAMILIES AND GUESTS WITH SPECIAL NEEDS
Ana Hotels Sport Poiana Brasov is the ideal place for a mountain holiday together with your family. The rooms feature extensible sofas that can be converted into beds for children, while the King Junior Suite offers access to a spacious parlor outfitted with a comfortable sofa and a recliner. One child of up to three years of age benefits of free accommodation in parents' room. The King Special Needs Suite is fully equipped for visitors with special needs. If you require special arrangements, feel free to contact us directly.
MISCELLANEOUS
NOT INCLUDED IN THE RATE - Brașov promotion tax at 1 LEU (RON) / night / person.
NOT INCLUDED IN THE RATE - Mountain rescue tax at 2 LEI (RON) / night / person.
All accommodation / services are subject to change. Payment of services quoted in Euro will be made in Lei at the BNR exchange rate of the invoicing day.
HOTEL RESERVATION POLICIES
Guarantee Policy
All reservations require a credit card guarantee. Non guaranteed reservations will be held until 18:00 on the day of arrival. In case of late arrival reservations will require valid credit card guarantee.
Cancellation Policy
Depending on the period of the year: free of charge if cancelled by 24-48 hours prior to arrival date. In case of no show or cancellation (during the 24h-48h), a penalty of first night will be charged. During high demand periods: Payment for the entire stay will be charged at the time of booking. In case of cancellation or no show, payment will not be refunded.