ANA HOTELS BRADUL CONTACT & LOCATION
Ski hotel near Bran Castle, Transylvania
A marvelous vacation destination for travelers who seek out unique and exhilarating experiences in Romania, Ana Hotels Bradul Poiana Braşov is one of the warmest, inviting and cozy hotels near Bran Castle in Transylvania, only 15 kilometers from Brasov's train station. To book accommodation for an upcoming visit or for more information about our hotel, please contact us and a member of our staff will be happy to assist you.
DIRECTIONS
By Car
Use the DN1 road between Bucharest and Brasov and then from Brasov to the Bradul Hotel up the Drumul Poienii.
By Train
From Bucharest Gara de Nord (North Railway Station) to Brasov Railway Station. Take Bus 4 from Brasov Railway Station to Parcul Central bus station. Take Bus 20 to Poiana Brasov. A taxi ride to Poiana Brasov is 15 km and will cost between 10 and 15 euros.
By Air
Bucharest Henri Coanda International Airport is 185 km away from Ana Hotels Bradul.
Ana Hotels Bradul Poiana Braşov
Valea Draga
500001, Poiana Brasov
Brasov, Romania
Ana Hotels Bradul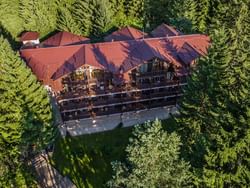 Be embraced by a warm and inviting yet chic ambience ideal for a quiet and relaxing mountain getaway.